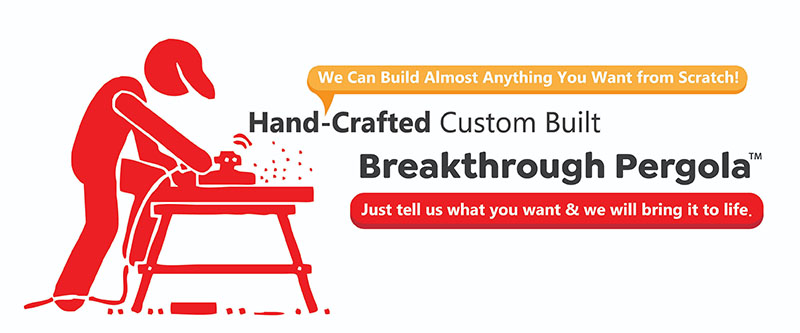 Hand-Crafted From Scratch, Just For You!
Whether you want a small garden pergola in your backyard, an entire open air living room or a spacious commercial grade pergula that can fit tens of thousands of people, we can build almost anything you want. Just tell us what you're looking for, and we will build it for you.
Building your custom dream pergola is a very easy process.
All you have to do is click on the Buy Now button (to the left), put down a 50% deposit, and we will work with you to create your dream pergola.
Breakthrough Engineering™ makes some of the best pergolas in the world. We understand that some customers want the finest things in life. They desire a Breakthrough Engineering™ Pergola that is unmatched in luxury, utility, efficiency, and personalization. With this in mind, we offer Breakthrough Engineering's Custom-Made, Hand-Crafted Pergolas from scratch. Whether you are looking for a pergola that is attached to your house, or you want to build an entire restaurant with a sprawling pergola, we can help you create your dream Breakthrough Pergola™.
Call us today to place your order.
One of our technicians will take down the measurements needed to create your pergola. They'll help you determine the specifications that fit your needs. What's more, we have several models that are perfect starting points for most people. We will help you throughout the customization process and hold your hand through every step of the process. Because everything is made from scratch, it does take two months. However, we are sure you'll love your Hand-Built, Custom Pergola.